As-Salasil adh-Dhahabiyyah bil-Asanid an-Nashriyyah - Ayman Suwayd
السلاسل الذهبية بالأسانيد النشرية من شيوخي إلي الحضرة النبوية
In this work, Sheikh Ayman Suwayd brings together the chains of transmission of the 10 readings that exist between the master readers, the Imam, the Muhaqqiq, Ibn al-Jazary, going back to the prophetic era.
Superb edition in very large format (about A4, 20x28cm), layout very neat, with most harakats.
Data sheet
Cover

Hard
Format

17x24cm
Harakat

In Majority or Totality
Editions available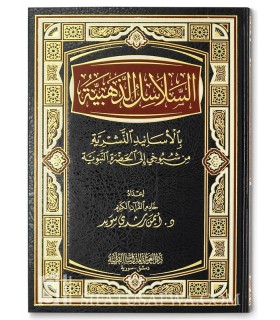 Edition Edition 1
Leather cover and gilding.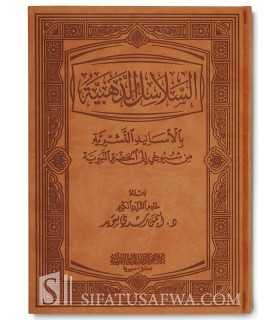 Edition Edition 2
Luxurious edition, engraved leather-like cover, with bookmark.
Frequently purchased together

Here is a poem and its explanation on the differences between Hafs reading and Warsh reading. The poem and its Charh are the work of Sheikh Muhammad Abdullah Muhammad ibn Sheikh al-Shanqiti, professor at Dar al-Hadith...

Lot of 7 Matn in Tajwid and the Koranic Sciences, to buy in pack (cheaper) or separately. Very nice edition, mini format (8x12cm), black and red print on beige paper, 100% harakat (except exception). With slight...

Shaykh al-Islam ibn Taymiyyah's book on Reading Prostrations, the reading places of the Quran where it is recommended to prostrate. Verified, authenticated and annotated edition.

Excellent Risalah which details the history of the 10 different Quran Readings, the rapporteurs, the chains and the methodologies of each one compared to the others. Written by Sheikh Abd al-Fattah ibn Abd al-Ghani...

This work of the Imam, the great specialist of the Quranic readings, Ibn al-Jazari (author of the Muqaddima, Tayibatu Nachr ...) deals with the subject of the writing of letters and words in the composition of the...

Ibn al-Atheer (606H) compiled in his book the following six books of Hadith: al-Muwatta, Sahih al-Bukhari, Sahih Muslim, Sunan Abu Dawud, Sunan al-Tirmidhi and Sunan al-Nassai. The Hadiths are organized into themes,...

The position of the two great Imams, Ibn Taymiyyah and Ibn al-Qayyim on Sufism, written by Sheikh Rabee 'al-Madhkali. Medium format (12x17cm) print in black and red on beige paper.

An incredible book by Imam an-Nawawi that brings together biographies and a dictionary of complex words. So we find very different biographies: men, women, Sahaba, Salaf, Angels, Jinn, whether Muslim or miscreant,...

Others titles from the same author

Here is a collection of epistles on the Quran and the Tajweed written by the Sheikh specialized in the readings of the Quran and its rules, Ayman Rushdy Suwayd.